Products. Training. Support.
The Concrete Protector offers a huge line of epoxy, concrete coatings, polishing, concrete seal & repair, concrete preparation equipment, waterproofing & more. We also focus on supporting YOU the contractor, with our FREE hands-on decorative concrete training, business development guides & our unique team of support specialists.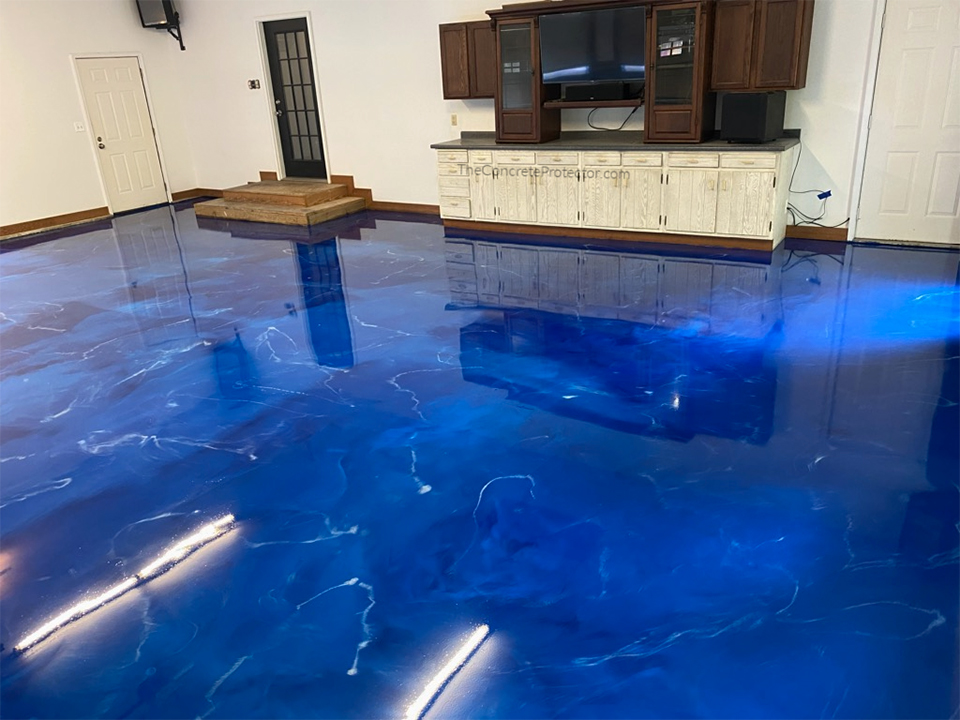 Metallic
Marble Stain
Metallic epoxy floors are quite possibly the hottest flooring system on the market, our Metallic Marble Stain combines the industrial strength of epoxy with specially formulated metallic pigments. 
Concrete
Wood
Our Rustic Concrete Wood System starts with an industrial cementitious coating that is stronger than concrete itself. We use a combination of techniques to give the feel of hardwood.
Epoxy
Color Flake
Epoxy Flake flooring is a strong industrial coating designed to be an alternative to Terrazzo. This product has an industrial epoxy base and can withstand heavy foot and vehicle traffic.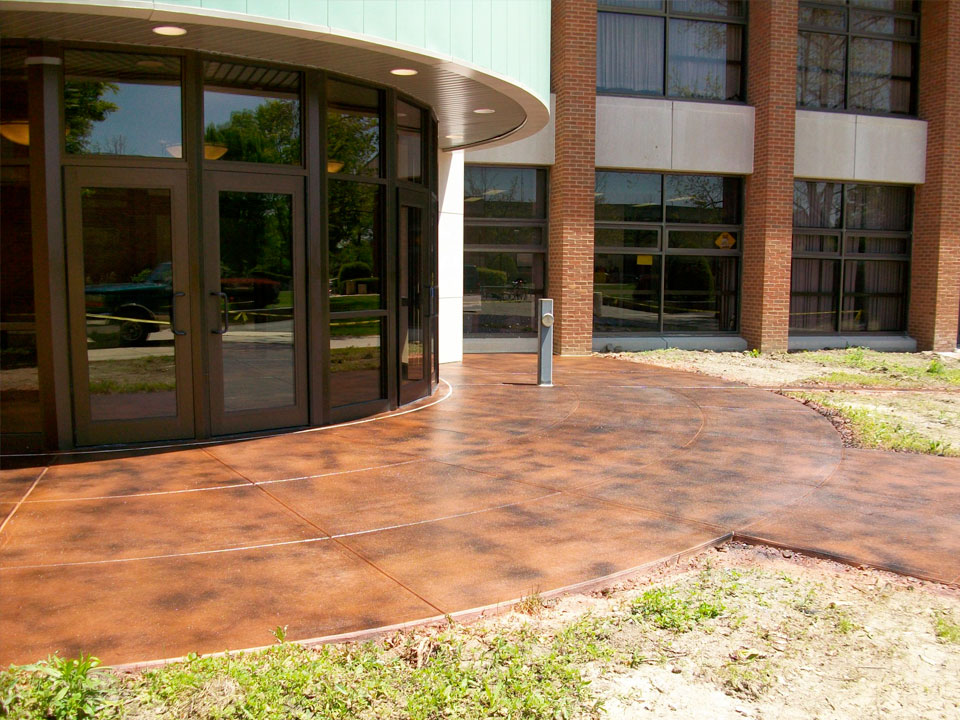 Slate Stained
Concrete
More durable than stamped concrete, Tuscan Slate is designed to impress. Our unique concrete marbling process allows for various color tones providing clients with a unique, decorative floor.
Grand
Flagstone
Create a random stone look on pool decks, patios, porches, driveways and more. Grand Flagstone is customizable and does not have repeating patterns that you see in stamped concrete.
Get FREE HANDS-ON TRAINING from industry experts with decades of experience in decorative concrete coatings and polishing.
Receive personalized business planning and marketing advice to get get your business rolling.
Warrior Equipment produces efficient and reliable concrete grinders, built from the ground up, for contractors that want to save time and money. Each of our machines were engineered with years of extensive input and from our customers in the trenches. We have used the world's first truly all gear-driven design, combined with the finest parts sourced from around the world to maximize productivity so you can focus on producing amazing results!
Class and instructors were awesome, they made the class interesting and fun. Kathy is such a great rep and I look forward to working with her in the futuy
Very educational class! Gained plenty of knowledge and feel much more confident! Can't wait to do my first floor! The staff was polite and answered all of my questions. Overall a wonderful experience.
Absolutely amazing!!! I highly recommend attending a training course!!! You get hands on and a lot of useful information!!! By the best instructor… Everybody is very helpful and you learn a lot in a short period of time…
Great class. Learned a lot! Great instructors!
Great hands on experience with a friendly crew, learned a lot.
Great place great people I'm really thankful for the opportunity to work with them.
Absolutely wonderful class, very informative, hands on . I definitely would recommend taking this class . Loved the people in charge teaching the class ..
It was a great experience! The staff was very friendly, helpful and very knowledgeable. I would highly recommend this company and am looking forward to doing business with them
Very good training and good atmosphere
Class was amazing , this guys know what the doing . Really impress with the knowledge and the structure of the business, my problem is now i am going home with so many ideas to implement on my business, thank you guys
Great Products and Equipment. The class was great.
Super helpful and great people. Learned alot at the class and know they will be there when i have questions and need help. Look forward to growing my business with their help.
This program was very informative, Dustin & Chrissy are very helpful. They made the class fun. Love Chrissy sense of humor. I will definitely come back and bring others.
Chrissy and Dustin are awesome it's a class I wouldn't miss definitely coming back to learn more. Great place to buy products and equipment.
Even though there is so much info to learn and soak up, Dustin and Chrissy make it super fun and understandable. They make the class very inclusive, even though I didn't have my own pieces to work on bc of lack of materials, I was still able to get my hands on experience up front working with Dustin while he was teaching the classes.
Absolutely amazing, all the stuff is very helpful and nice, very happy with the training
The class was very informative and i feel like chrissy and dustin covered as much as they could with the time we had. Well worth it and would recommend to anyone who hasn't taken the class yet.
I love the Team! They have been so fun, patience and helpful with everyone the entire time! Alot of hands on applications through out the class! I would definitely recommend attending the course, well worth the time and money! So glad I made the drive to attend. Feeling very confidence to go out and active my business goals because of this course.
A wonderful class to learn the perfect experience for what you need to know
Great training overall! Very informative. Engaging personalities. Would like to have training include stamping and spraying and cover those products more in depth.
When I signed up for training I was excited, but after being here and meeting everyone, I feel like I'm ready to conquer the world one concrete block at time. 💪🏿 Thank you help and hospitality I'll be in touch
The staff here at concrete protector is amazing very knowledgeable and honest. They actually give you all the help you need to be successful in your business. Thank you concrete protect.
Training class has been absolutely a great experience, very informative, a lot of products to offer. Dustin and Chrissy are great trainees, very helpful, very knowledgeable, I totally recommend this company for training and they help you to start your business with the right equipment and support small business owners need to succeed.
Great team and great equipment!!! If you are looking to get into the coatings industry this is the company to train with!!
I am so grateful for the concrete protector team. Be prepared for lots of hands on training in their state of the art facility here in Las Vegas Nv. Trust me, They are definitely on point in every aspect of the decorative concrete and polishing industry. And also marketing. Just to name a few. They are truly their to help you reach your goals in this industry."greatly appreciated"Thank You!!
Protech702 Carpet Cleaning (PROTECH702 Carpet C.
This course was by far the best learning experience for me! It is so exciting that I don't even care about missing work
Chrissy and the entire staff at Concrete Protector were amazing! The staff were very knowledgeable, and very helpful.Chris RayConcrete GenieColumbus, Ohio
Very informative class. I've been doing this for 10 years and thought I would be bored, but I learned many new things, and was very impressed with the staff and the class! These guys are top notch, and you can tell they care about you and your business. I recently purchased a Warrior Leonidas, and having run many machines, this machine is a beast and is going to save me a TON of money in labor costs.
These guys provide the best hands on training!
Wish it was longer and had more time to learn in detail certain things. The team is unreal super nice and amazing. Truly try to make you feel like family. It's not all about selling their product but yes they do show you way you should buy their products. All in all great experience. Just want more!!!!
Dustin has a huge knowledge about the product as well as techniques used to accomplish the best end result. He is very helpful with our questions and has a great sense of humor.Chrissy is wonderful, she is funny, sweet and knowledgeable. She's very comfortable sharing her experiences as is a joy to watchThey both work well together and have interaction that makes class fun to attend
Great class to attend!!Very knowledgeable staff!!Can't wait to see what they can do for business!!Thanks Dustin & Chrissy and everyone else!!
It's going to be hard to top this combination of qualityTraining and kindness.Top notch.
The class is very engaging and I enjoy the fact that both instructors seem very excited and genuinely interested in what they do.
Chrissy and Dustin are super informative. I learned so much and I really enjoyed the hands on training. We are looking forward to adding a concrete coating division to our retail store in both Nevada and Arizona. This will be a great partnership. Concrete protector is the perfect fit for us! Can't wait to attend the next class!
Great time . fun and i learned so much . I cant wait to get started and have a great team of people behind me .
Great information enjoyed experienceCrew makes info very interestingBest training experience I've hadThank you
Enjoying everything I'm learning and the people around me
This has been a great learning experience for me so far! All of the trainers are very knowledgeable in all aspects a highly recommended class!
Time well spent, learned so much in a short time.Dustin and Chrissie were fantastic at teaching and explaining all the steps for the products they carry.
Thank you Dustin and Chrissy , the both of you make a great team.and many thanks to Ray and the rest of the team. I learned a lot and hope to continue building our relationship together ☺️
Great experience in the seminar. I learned a lot.Good platform to start up a business or expand an existing one.
Super, Great, & Informative! 🤙🙏 Thank You!!!
My first time and its a great experience
I'm glad I was here to take your class, your information is insightful and knowledgeable. Looking forward to using your product in the near future and can't wait for the next class. The president and staff are very nice people. Coming to Vegas wasn't a waste of time, I'm happy to be here at the class instead of walking the strip. The class was so much fun......Thank you Thank you Thank you
Awesome experience leaving with a lot more knowledge than expected
I've been in the flooring business for 36 yearsI've been to classes for many products over those years. Today I showed up at the concrete protectors class. I can only say Im very hard to impress these people ran a 5 star class. I got to to do hands on sample boards at my table who does that? Tomorrow is day two I'm going to do more hands on sample boards now this is how to run a three day school not only that they give you a way to market your business. Concrete Protector cares about me personally and wants me to succeed and give me the tools to succeed. 5 ⭐️ ⭐️ ⭐️ ⭐️ ⭐️Pete Hernandez101Flooring ConnectOwner
Awesome classes, they give you the tools to create art on floor. Can't wait to try this on some house renovations for testing.
I have started working with Dustin, LJ and Chrissy with Warrior Equipment and The Concrete Protector last year. They have a ton of experience and knowledge to share and are willing to do so. It took me months to finally finalize a purchase for a Warrior generator. I canvased the industry and to my surprise there is literally not another generator on the market that is portable 3phase with the output this one has. Great machine and i challenge anyone reading this to find one that matches this performance that your not towing behind your vehicle.I had the pleasure or attending a training class with Christy and Dustin. Great facility and they do a great job creating a family vibe and put an emphasis on relationships!My hope is they continue to develop the training to enable contractors to develop their skills so they have better capabilities laying down the CP systems.The team has ensured me they will do so and build what my contractors need!Thank you CP Team!John StechyshynOwnerBeehiveepoxy.comSt George UT
Wonderful experience. Fantastic sharing of knowledge.
If your looking for a loyal company that strives to grow your business and not just there to make a profit, then TCP is perfect for you!! They have the best training, products, and equipment along with an INCREDIBLE marketing team!!! I highly suggest you check them out!
I have attended training at a competitor, this training has been better structured and far more informative. Dustin keeps class interesting, answers questions and is extremely knowledgeable. His assistant Chrissy is very helpful as well. I plan on coming back again.
They are an awesome team definitely informative, knowledgeable on the products, and fun. Definitely well worth the money. 🔥
Great hands on training. A must for anyone looking to learn or improve their skills.
Great team, lots of information, Dustin and Chrissy are awesome .
Dustin and Kristy make a good team together. Very informative, fun and engaging during training.
Great training course for introducing you to the company and what they do. I have experience in some of the products they provide and still learned new things I did not know before coming to the class. Great job Dustin and Chrissy.
Very hands on. Got all questions answered.
Exceptional customer service and product. Training was totally worth it!
I loved everything about this classIt was worth every penny 👍🏼These skills that will take you and your business a long way!~Knowledge is power~
I totally enjoyed this training! Dustin and Chrissy were the best! I'm looking forward to partnering with this company.
This is the third time I take this training. The trainers are awesome, knowledgeable about systems, products, tools, marketing, etc. Thanks to all the crew, you guys make the training fun and entertaining. We will be talking soon about buying equipment.
Great experience!!! Chrissy is great!!!! I love her energy. made me feel very welcomed here .the staff is amazing and you can tell they're family they do a very great job of making you feel like family as well !!highly recommend!!! I love everything about this class . It's the energy I love!!!
Very impressed with the staff very knowledgeable, 100% training no high pressure sales. Everyone was very helpful would recommend this class to anyone that wants to learn from the best in this field. Hands on training and true technical support access. Will be back for future classes
The training was very informative and practical. I enjoyed the opportunity to get hands on experience using superior products and equipment. - Ondre Nickens
These guys are amazing! The hospitality and knowledge gained in this training has been Top Notch! I flew in from Atlanta Georgia and was three hours late and my Representative Rueben and Instructor Dustin gave me the opportunity to stay over when classes ended and they filled me in on everything I missed out on and willingly answered every question I had and explained in full detail. They actually feel if you succeed, they've succeeded! I strongly suggest anyone looking to get into the Decorative concrete business to Attend This Training!!! With that being said be on the lookout for "Henderson Custom Floor and Design" Thanks Concrete Protector!!!!!!
Great staff!! Extremely informative and helpful!
Both Chrissy and Dustin were very helpful, patient and informational. The course was very easy to follow and I didn't feel dumb for being inexperienced. Dustin took his time explaining each of the machines and explained each process very well. I would take this course again.
Awesome traing. Never biring like some other trainings. Completely immersive and engaging. Concrete Protector is top shelf products backed by a Top Shelf team.
Great class and amazing staff Love your products . I've never been around such professional amazing energetic kind and caring staff. What an amazing company and I'm sure I'll be doing business with the company.
This training is very informative. It's trainers Dustin and Chrissy are fun, make you feel comfortable, have great attitudes, answer all your questions, and etc. The up and coming Trainer Landon is a great kid n exceptional student/assistant.
Great place I love the people the company I'm ready to rock and roll thank you Guys
The class was amazing, the instructor's were great and full of knowledge, wish we had more time to do more training!
Great Knowledge and great experience
The instructing was great and the atmosphere was primo. Christy and Dustin can teach me anytime anywhere.
What an incredible company! Every team member I encounter is nothing but excellent to work with! Not only is their team great, but so is their products and equipment. If your looking for the best of the best in decorative concrete, I highly suggest TCP. They are there for you every step of the way. Answering any and all your question and creating a relationship greater then just a company and client doing business! 10/10 would recommend!!
Great training! Thank you!
Great learning experience
Superior hands-on training. Chrissy, your the best. You and Dustin make a great team. Thank you for your hospitality. Looking forward to another training session and working with CP and Warrior Equipment.
I was absolutely amazed with the presentation and the company. I have no doubts that I will be successful in this business with The Concrete Protecter behind me.
This class is great , everyone here is extremely nice and helpful, the teacher is incredible and takes his time with everyone, I appreciated all the staff they come to help u with anything u may have a problem with their great here... I'll definitely be back and refer others.... Concrete Protector , Warrior Equipment, and their products are amazing.... This is Eric Johnson from Customized Realities & Mr.Bret was my assigned agent and he's great.... Thanx for everything
Great company that will do almost anything to make sure your company succeeds! If you are looking for a new career opportunity this is the company to check out! Best customer service and hands on training available!
Been to a few trainings for epoxy and this was by far the best. My journey started with arriving to their training facility where they had individual training tables for us to make samples at. We learned from their instructors who had a lot of knowledge and advice for us. We reviewed the entire process of many different coatings and I feel comfortable leaving with my new skills. Thanks to the entire team at CP!
Extremely friendly and experienced staff. Best products and equipment when it comes to concrete coatings. This is the professional partner you need if you want to be successful in the concrete coating world. Thank you for all the help and awesome training.
We are so impressed with the training and look forward to working together!
Whether you're new to the industry or a long time veteran, you'll learn a ton at their training classes. Light hearted and packed with information, we got hands on training for the right solutions for each unique job. We'll be back for more!
I am learning a lot of new stuff that i haven't learned before and I will use the material that you guys are teaching me
One of the best experiences everyone is here for your success
We have attended a couple of trainings. We learn something new every time we attend the training. This is a hands on training, be prepared to participate in the class! Thank you guys for another great training class.
This class was amazing !!! the amount of help and support is beyond belief your success is really apart of CP success... Chrissy was such a sweetheart ❤️ Dustin your the man 💯
Update: this is my third time attending with fresh faces with me that have never experienced concrete coatings. The installation experience was even more detailed with updated tricks and little dos' and don'ts' thank they did not speak of before. Reason being is the constant feedback and communication between c.p. and the installers. And they implement these lessons in the teachings. Priceless information added on to the knowledge that I have obtained through previous classes and hand on jobs. I truly thank you for this.The concrete polishing course is very detailed on explanation and understanding of what details and what to pay attention to.Thank You
First day of the class very helpful very knowledgeable people answered all the questions that I had from previous suppliers that they cannot answer look forward to the next two days of the seminar and then getting back to Milwaukee and applying the knowledge
Very professional. I had a great time, learned some much information. I am looking forward to the future with the Concrete Protector. The two instructors were incredibly knowledgeable. They were very patient and informative. Extremely Grateful 🙏
Well set up organized classes. Great detail explaining each step, to be successful in each design;. along with hands on training with multiple types of floor designs.
The instructors were very knowledgeable and there were no delays throughout the course
Enjoyed the class and love the work they do! Can't wait to use what I learned in my business! Amazing employees, all very kind and helpful.
Loved every bit of the class. All different types of characters from all over the United States. My wife and I had a blast we will definitely recommend and definitely be back!
They instructors was excellent, best training I ever attended. The both was very knowledgeable. Special thanks to Krissy for going above the call of duty to assist me in better understand how to use the product
Class was informative on all the topics discussed. With their recent acquisitions they have such a large array of products (that is good thing) multiple classes or additional specialty product instructional days of continuing education would be beneficial. All instructors were very helpful even expanding my decades of knowledge & experience.The equipment offered of of very high build quality and is constructed very well. I have no doubt at least one will be added to our fleet in the immediate and likely several more in the not so distant future. I highly recommend their class and products.
Chrissy and Dustin were great instructors! Loads of info! Highly recommend! We flew from Atlanta to Las Vegas. Totally worth it!
Great class, great program. Knowledgeable people that really help set you up for success! Very hands on which we were looking for!
I'm so impressed with this product, they have thought of everything. It is so professionally engineered. The instructors have accommodated our every need with the utmost kindness. I am so happy I was able to take this class. Thank you for everything CONCRETE PROTECTOR....
Great staff with experienced great products and materials!! Look forward to working with this company!!👍👍👍
Great training program! Chrissy and Dustin do a great job giving you an overview of the products and equipment.
Very professional these guys know there stuff
Great team, members very friendly. Looking forward to learn more from there
Thank you Ruben and the staff of CP training facility in Las Vegas.Excellent training classes with tons of knowledge and the best costumer service experience. 👍
Top Notch Best of the Best very honest & open Company and personnel
This class was very informational just in the day and a half of class. Excited to start something new and broaden our business. Would love to come back and keep learning.
I am really glad that I've joined the "coding system" class, it was a great course. They are very professional and educated. All the employees were very nice, helpful, and professional. They know exactly what they are doing! Attending their "coding system" class was a great choice (even I had to drive for hours). I've learned a lot, and it was a pleasure to get them know. One important factor is whenever I have questions or need help I can contact them.I definitely recommend to attend the course, you won't regret it.God bless this company.
One of the most enjoyable, informative and entertaining trainings I've ever attended
The training was excellent and will definitely recommend.
Absolutely amazing service and people!! Definitely will stay in contact with them for everything epoxy. The training is very helpful and the trainers help with every question you can have about the products and programs.
Good people good training
Dustin, Chrissy and their staff at The Concrete Protector training class are world class! They are extremely knowledgeable, helpful and generous. I learned so much that I can't wait to continue with their advance education class! Bravo!
I've been to several trainings. As soon as we walked through the door you could tell it was different. There was a station set up for every person so everyone got a chance to participate. All training and Reps were extremely knowledgeable about the systems that they produce and sell. Every question that our class had they answered it without the famous " I'll get back with you on that". Anyone that is think of getting into Overlays and epoxy flooring and even the ones that are already doing it I recommend coming to this training. You won't be disappointed.
Very informative, the team is energetic and keen to respond to any questions.